New Times! New Menu!
Create a contactless QR menu for your restaurant
NewMenu is free and always will be
New Times! New Menu!
For
restaurant
No app download needed
Easy to browse, find and order
Edit & update menu anytime, anywhere
Unlimited, detailed menu
Time-saving
Multilingual menu
Available 24/7
Ecological and economic
Most Innovative solution in the market
Hygienic and safe
Edit & update menu anytime, anywhere
Unlimited, detailed menu
Ecological and economic
Most Innovative solution in the market
Time-saving
Hygienic and safe
No app download needed
Easy to browse, find and order
Multilingual menu
Available 24/7
For
customer
Connect your cash register
Receive your orders directly on your cash register software
We are always adding new integrations, can't find yours? Let us know via chat
Available
01.
Register Now
NewMenu offers free registration and a smooth system. Check it yourself by registering now.
02.
Upload Your Menu
Easily upload and amend your Menu in the dashboard. The more attractive dishes' pictures you add, the more glamour you gain.
03.
Print QR
Get the automatically generated QR code for your Menu. Choose your favourite template from our displayed list and print it easily.
04.
Scan to see
The customers will be able to scan the QR code and check your Menu. They will browse the Menu with tasty dishes' pictures, save items, and choose their desired plate in simple steps.
Try it yourself
Book a demo or register now!
Let us demonstrate a NewMenu for your Restaurant.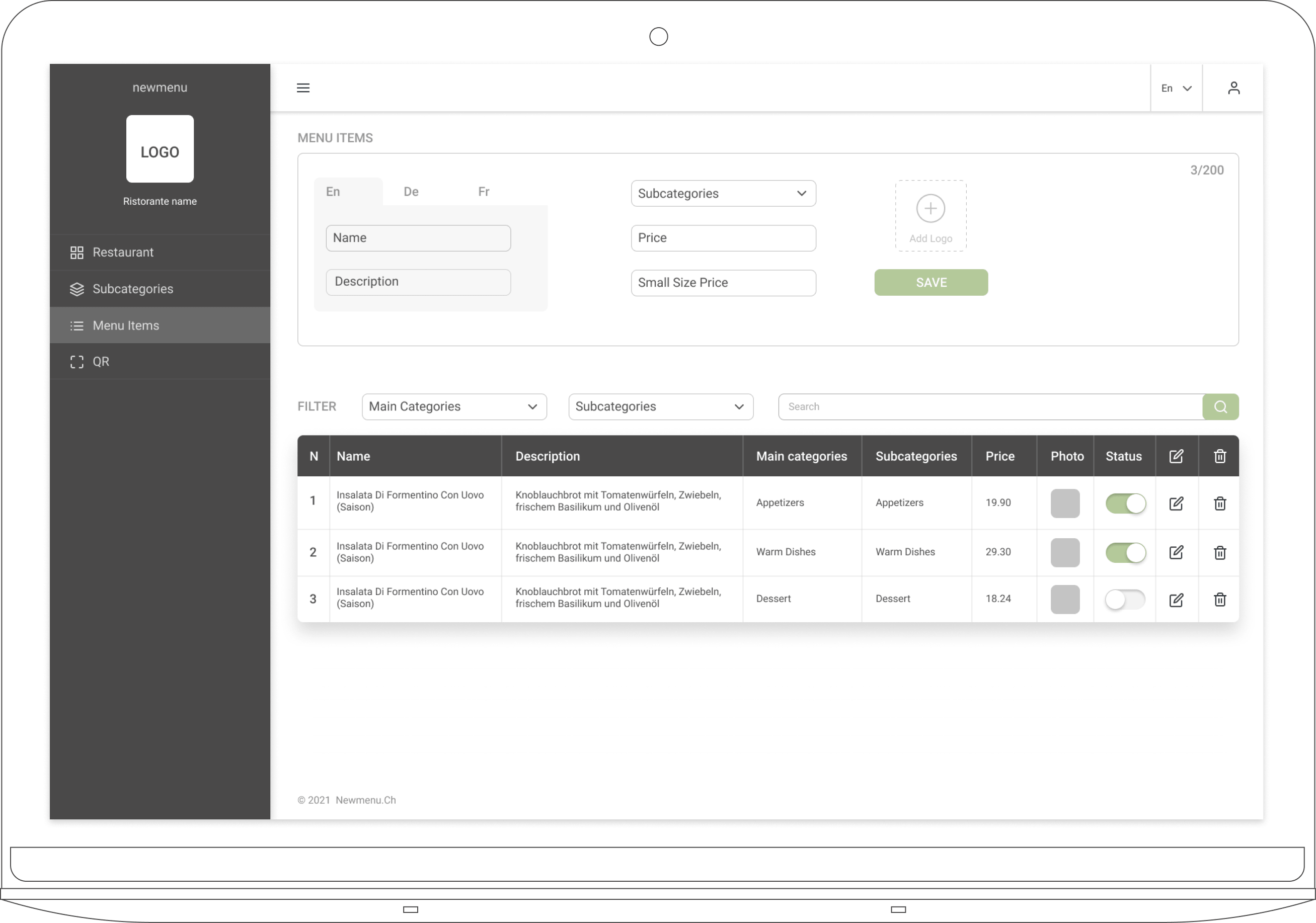 Easily Update Menu
Our platform allows you to add new items, update and amend your digital Menu at any time and anywhere.
Digital Menu
Your customers will browse the digital menu on their own devices. Allowing them to search and choose the meals, view the ingredients, browse the photos, save the items & create their orders. Arraying a delicious meal from the restaurant's menu has never been as smoothly.
View menu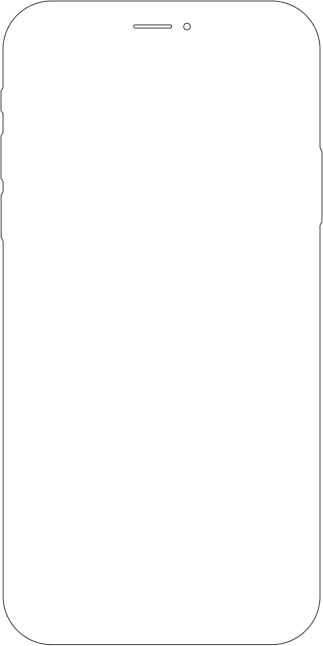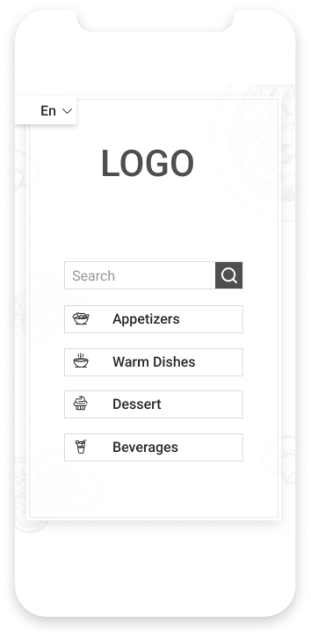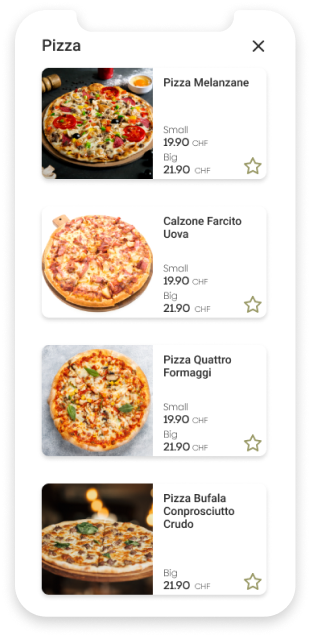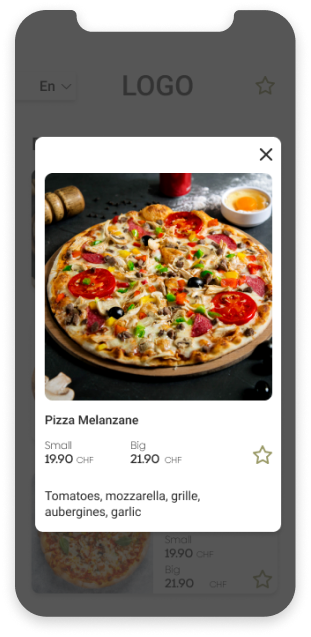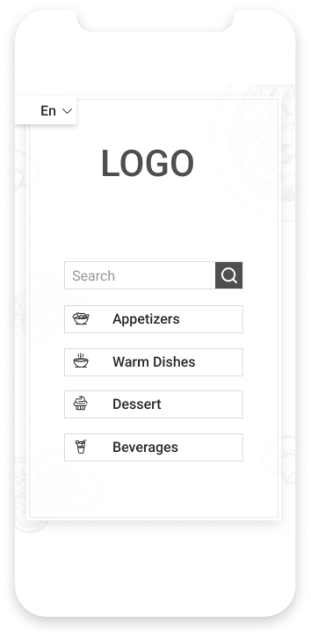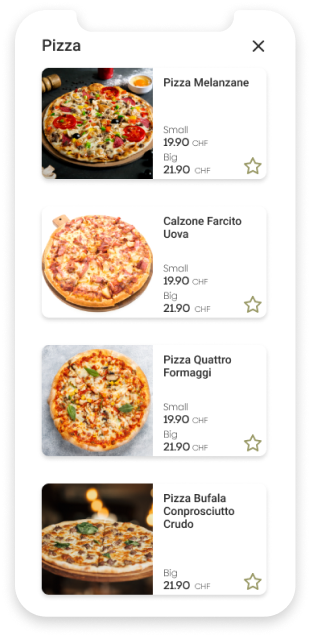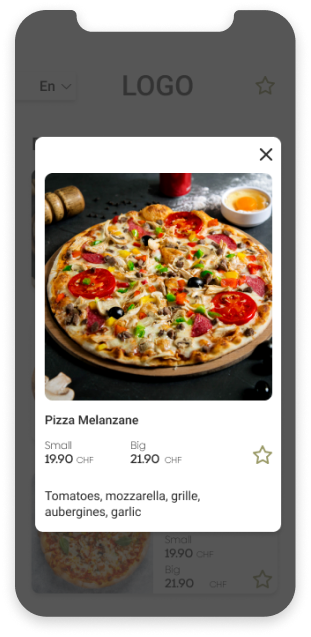 Prices
Get the control and customization you need
to manage your menu
Eco
Free Forever
Digital QR menu

Admin dashboard

Menu URL

Print-ready

Multilingual

Up to 200 menus (dishes)
Pro
CHF 19.- / month/restaurant
Business
Let's talk
Reviews
Simona Maier / Hotel Frauenfeld
21.05.2021
Thank you so much for your support. Once again a big compliment for this solution. Our guests are already loving it!
Jean-Luc Dumas / Hotel de Ville, Gruyere
28.05.2021
Première impression clients, tip top..!!
Je suis content de l'intégration de ce nouveau système pour le bien-être de mes clients et de mes collaborateurs.
Nous devons mettre encore des photos et améliorer certaines choses dans le menu.
FAQ
The QR code is a tagging barcode readable by smartphones and tablets. It can be used on various mobile devices through a special application or by opening the mobile phone's camera to give direct access to a website showing the restaurant's menu.
The main aim is benefiting from the technology and innovation, firstly, by saving the undesired waiting time, at the bars, cafes and restaurants queues, and secondly, by enabling a contactless and more hygienic menu browsing. Usually, the customers waiting process is long, until the waiter comes and take the order, next register and pass it, another awaits if you ask for something extra, drink, the bill etc. By making the NewMenu's QR available for the customers, the restaurant speeds up service and makes it more accessible. It is quite possible to offer the QR NewMenu at the same time, with the paper menu. Mutual benefits, less waiting and more comfort for the customer, more efficiency for the restaurant owner.
There is not a need for an application to use NewMenu. However, if an application is needed in the future, NewMenu will consider creating one.
Read More